Kitchen Remodel & Update by Chandler Remodeling Contractor
Time for an Update & Re-Design for this Chandler Kitchen Remodel
Winer of the NARI CotY Award- Residential Kitchen
Kitchen Remodeling & Updating
Category: Residential Kitchen $60,001 to $100,000
Project Cost: $65,342
Ever wonder what a $65k kitchen renovation looks like? Despite being remodeled less than 15 year ago, these Chandler homeowners had an outdated kitchen, un-utilized areas which could be used for extra storage space, and materials that matched the trends of yesterday. Once we began designing this Kitchen Remodel, it became clear this would be a dramatic transformation.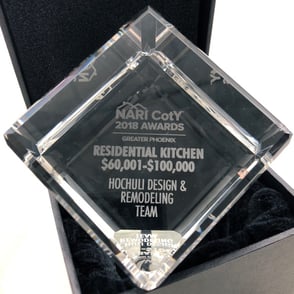 The main goal for the Chandler Kitchen Remodeling project was simple: Make it brighter! The color tone of the existing kitchen cabinets, counters, backsplash, and flooring made the kitchen feel very dark.
With a love to entertain with friends, and also the yearly responsibility of cooking Thanksgiving and Christmas meals for the entire family; the homeowners really needed a double oven.
The existing kitchen cabinets were custom built by the homeowner 15 years ago, and he was very emotional about the fact of tearing them out.
Better storage!
The current kitchen didn't match the design aesthetic of Mrs.; but rather, was remodeled 15 years ago to match what "everyone else was doing".
An old 48" Subzero refrigerator was recently replaced with a new 36" Thermador, which created open areas around the refrigerator cabinet wrap.
Wasted space above upper cabinets.
Construction between Thanksgiving & Christmas.

Selection, and use, of timeless materials that never go out of style!
Re-face, instead of replace, the kitchen cabinets. The cabinet boxes, built by the homeowner 15 years ago were built using plywood; and were in great shape. They held up very well over the years, and simply needed a style/color freshen-up with new cabinet doors & drawer fronts.
Cabinet modifications would include: rebuilding the oven cabinet to allow for installation of a new double oven, the addition of a spice pull-out, new custom pull-out around the refrigerator, additional upper cabinets, and switching to deep drawers in some areas of the kitchen for better storage access.
Just a few of the finishes include: *Mixture of solid tone, and stained tone, wood finishes on the cabinets. *Quartz countertops, *French White Oak wood flooring, *Touches of Champagne Gold finishes, *Black paint on walls and ceiling, *And More!
Master an Organized and Efficient Schedule.
Create a "WOW" when people come over!


The addition of new, 15" tall, upper cabinets installed above the existing upper cabinets. This takes up some un-used/wasted space on top of the upper cabinets, and also creates a decorative feature with the etched glass panels that are backlight with LED lighting.
The top trim molding is installed an inch below the ceiling height at the low point of the vaulted ceiling. The overall height off all upper cabinets, around the entire kitchen, is consistent.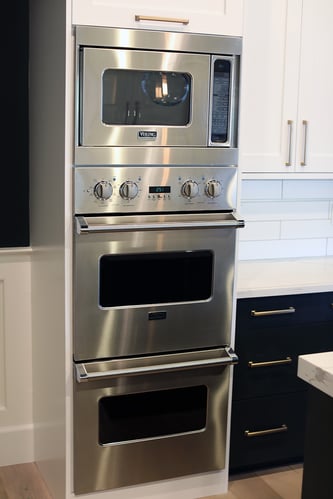 The existing single oven, with microwave located above, was replaced with a Viking double oven + microwave combination unit supplied by the homeowner to allow for cooking big meals when Entertaining and Holiday Season.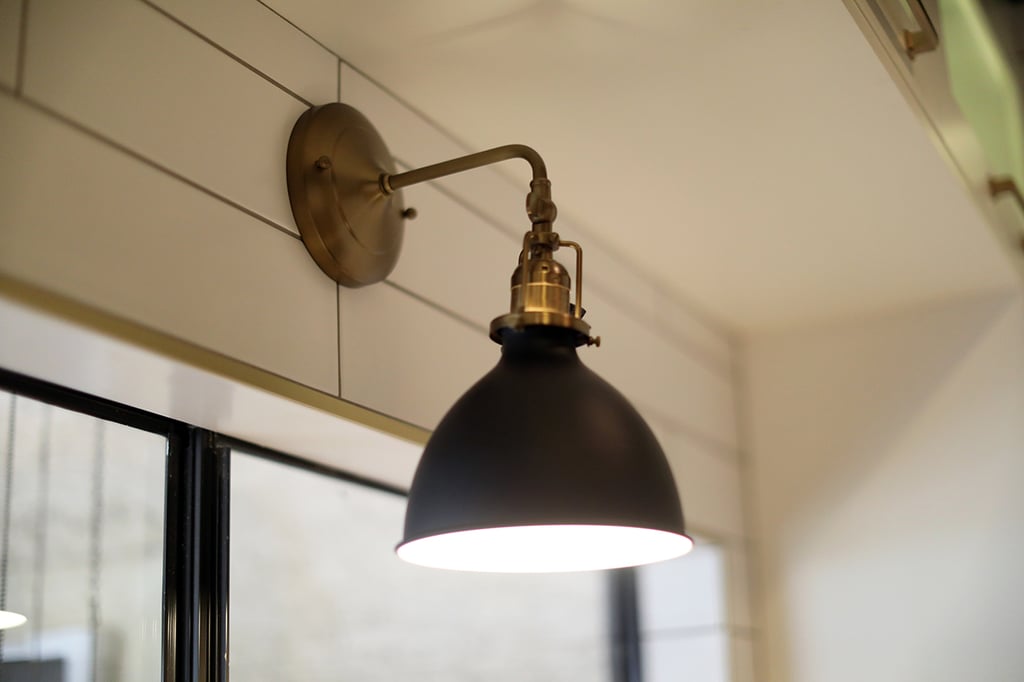 A completely new light location was added above the sink area to help with task lighting at night.
The new light is a Champagne Gold finish, with black and white canopy.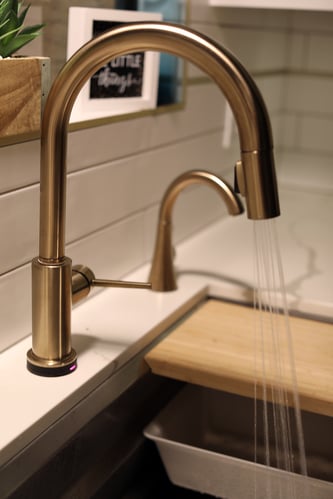 Delta Trinsic Touch Faucets
From the Delta Website:
With Touch2O® Technology a simple touch anywhere on the spout or handle will start and stop the flow of water. Helps keep your faucet cleaner, because washing the mess off your hands shouldn't involve making a mess of your faucet. Automatic water flow shut-off after four minutes helps conserve water. Integrated TempSense™ LED light shows water temperature, changing from blue to magenta to red as temperature increases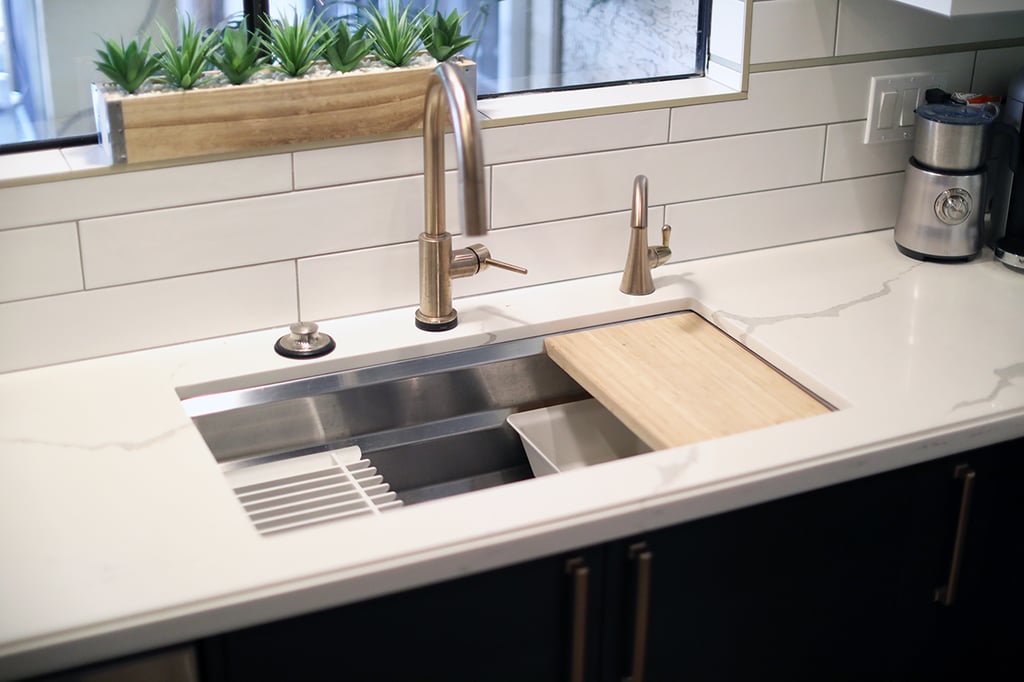 Kohler Prolific Sink System
From the Kohler Website:
Create a highly functional kitchen workstation with the Prolific sink and its included accessories. This innovative stainless-steel sink features three graduated ledges in the basin, so you can place the bamboo cutting board, multipurpose grated racks (two), colander, and washbin exactly where you want them for maximum efficiency as you work. The sink comes with all five accessories included. Other features include a unique cone-shaped drain for easier cleanup and SilentShield® sound absorption for less noise.

Hochuli Design & Remodeling Team works closely with good people to build positive memories while bringing their home remodeling dreams to life, while upholding 4 major beliefs:
1) A belief in Teamwork: We believe it takes a Team to build a Dream. Our dedicated team works with the homeowner towards a common goal, and is proud to assist homeowners with the challenges of Remodeling.
2) A belief in Customer Service: We believe in a 'Boutique Level of Customer Service' that builds lasting relationships. Instead of the typical Contractor vs. Client transaction, we believe in a two-way alliance of Character, Trust, and Integrity.
3) A belief in Quality Design: We believe an Educated and Industry Certified Design staff helps to ensure the homeowners money is well spent on a timeless and lasting project.
4) We believe remodeling can be an enjoyable and rewarding experience for everyone involved.
You can find some before/after pictures of this Chandler Kitchen Remodeling Project Here
Are you embarrassed to entertain because your home is outdated our un-functional, and in need of some space planning and layout help? Learn more about our Team, then fill out the form below to schedule a time we can discuss your design/build remodel project.