Kitchen and Bath Remodeling Contractor Team in the Media – and Announcements
Awards and Announcements
Hochuli Team
Wins an Award
Press Release – Hochuli Design & Remodeling Team of Scottsdale, AZ has been awarded "Best of Houzz" 2016 for Customer Satisfaction by Houzz
It's an honor to be recognized for our customer service!
Lorrie Hochuli – Hochuli Design & Remodeling Team
The Best of Houzz award is given in two categories: Design and Customer Satisfaction. Read more…
Hochuli Team
Wins 2 Awards
Press Release – Hochuli Design & Remodeling Team of Scottsdale, AZ has been awarded "Best of Houzz" 2015 for Design & Customer Satisfaction by Houzz
I am very proud of our Team!
Scott Hochuli – Hochuli Design & Remodeling Team
The Best of Houzz award is given in two categories: Design and Customer Satisfaction. Read more…
Articles and Spotlights
Phoenix Home and Garden Magazine features Hochuli Design & Remodeling Team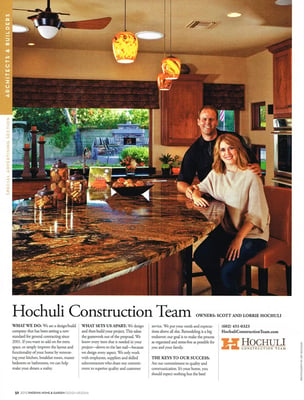 "What We Do: We are a design/build company that has been setting a new standard for general contracting since 2001. If you want to add on for extra space, or simply improve the layout and functionality of your home by renovating your kitchen, breakfast room, master bedroom or bathrooms, we can help make your dream a reality.
What Sets Us Apart: We design and then build your project. This takes the guesswork out of the proposal. We know every item that is needed in your project-down to the last nail-because we design every aspect. We only work with employees, suppliers, and skilled subcontractors who share our commitment to superior quality and customer service. We put your needs and expectations above all else. Remodeling is a big endeavor; our goal is to make the process as organized and stress-free as possible for you and your family
The Keys to Our Success: Are our commitment to quality and communication. It's your home, you should expect nothing but the best!
Phoenix Home and Garden Magazine features Hochuli Design & Remodeling Team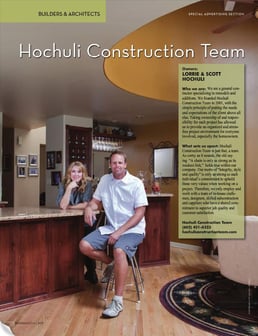 "Who we are: We are a general contractor specializing in remodels and additions. We founded Hochuli Design & Remodeling Team in 2001, with the simple principle of putting the needs and expectations of the client above all else. Taking ownership of and responsibility for each project has allowed us to provide an organized and stress-free project environment for everyone involved, especially the homeowners.
What sets us apart: Hochuli Design & Remodeling Team is just that, a team. As corny as it sounds, the old saying "A chain is only as strong as its weakest link," holds true within our company. Our motto of "integrity, style and quality" is only as strong as each individual's commitment to uphold these very values when working on a project. Therefore, we only employ and work with a team of in-house craftsmen, designers, skilled subcontractors and suppliers who have a shared commitment to superior job quality and customer satisfaction."