Design/Build Remodeling in Tempe – How Can We Help You?
If You're Excited and Ready to Put On an Addition or
Renovate Your Kitchen or Bathrooms
Let Our Home Remodeling Experience
Create the Space You Really Want for Your Phoenix Home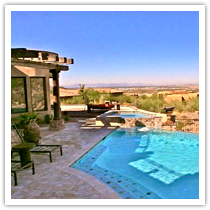 Hochuli Design & Remodeling Team LLC is a design-build company. We have successfully completed over 500 design-build and home remodeling projects in our first 10 years in Phoenix, Tempe, Scottsdale, Paradise Valley, Chandler, Arcadia, Mesa, and Gilbert.
We provide home remodeling services in Phoenix, AZ with a focus on kitchen remodeling, bathroom remodeling, room additions, and whole house renovations.
If you want to add on for extra living space, or simply improve the layout and functionality of your home by renovating your kitchen, bathrooms, master bedroom, home office, outdoor kitchen or outdoor living area or any other area of your home, we have the experience you are looking for.
Lorrie Hochuli has over 10 years of design experience and understands the needs and perspectives of our clients…especially women. Even with all of this design experience, she continues her formal and social education to stay ahead of market trends and to create new looks and implement new ideas.
Her eye for design and detail has proven to be spectacular based on the testimonials and reviews from our clients. Many of our clients have decided to expand their home remodeling or renovation projects to include more rooms just based on her initial design. Our Process removes the guess-work from your project and allows you to see what specifically needs to be accomplished to bring your Dream to Life.
A lot of contractors say they can create that "wow" you are looking for. We prefer to let you see our work and talk to our clients. You can see many of our projects in our gallery and we would be pleased to meet with you and provide our list of references.
Here are some of the reasons our clients have renovated their Phoenix-area home:
Growing Family
Your family is growing and you need more room. You have a new baby, an adult child is coming back home, your parents are aging and need your help or perhaps you are combining families after remarriage.
Time to Update
Updating is easier than moving and updating. Home remodeling is a smarter decision for most people. Our clients have been amazed at the transformations we have been able to achieve for them. Most can't believe it is the same home. We can advise you if you are "over improving" your home for your neighborhood. This is always your decision but we want you to be informed.
Private Retreat Area
You need a private "retreat" to unwind. Many of our clients have busy careers and want to create a "retreat or sanctuary" area in their home to unwind. This could be a man cave for him or a spa-like bathroom with a soaking tub for her, a media or exercise room for the whole family or wine cellar or hobby room.
Entertaining
You want to create a great gathering place. That 80's era kitchen can become the one place everyone wants to be at the end of the day and on the weekends.
Your Wow Place
You've been dreaming about a master bathroom for years and now you are ready to do it. This can be that "wow" place you have always wanted. It can be a place to relax and escape or just give you pleasure each time you enter. This is one of those remodeling projects that make you feel great.
Whatever changes or transitions you are about to face, our home remodeling services can help you recreate your living spaces to meet your new needs or desires.
Call us today at (602) 451-0323 and get started on your dream.