Bathroom Remodeling in Phoenix – How Can We Help You?
If You're a Phoenix, AZ Homeowner and You Want a Stunning Bathroom Remodeling Project
Let Our Home Remodeling Experience
Create the Dream Bath You've Been Imagining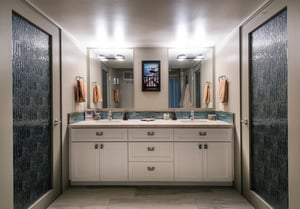 Most Phoenix, AZ homeowners tackle a bathroom remodeling project once every ten years.
They usually want to create a WOW bath space that they will be able to enjoy every time they walk in the room.
Hochuli Design & Remodeling Team is a design build company – we first design your new bathroom and then we build it. The ability to design and build is a special skill that few remodeling companies master. Scott and Lorrie Hochuli own and operate the company.
Lorrie Hochuli has over 10 years of bathroom design experience and understands the needs and perspective of our clients…. especially the women.
Bathroom design requires a vivid imagination and creativity to blend color, finishes, and functionality in small or large spaces.
Lorrie pays attention to the little details that many remodeling contractors don't want to deal with in designing your bath.
She takes the time to listen to your needs and desires, then creates a design that maximizes the use and functionality of your newly renovated bathroom.
Here are some of the design elements that Lorrie will consider for your Phoenix, AZ bathroom remodeling project:
The existing bathroom space and surrounding rooms
Color and finish materials
Selection of plumbing hardware and fixtures
Lighting fixtures and placement options
Specialty options for storage
Pricing of alternative options
Zoning regulations
And so much more!
Lorrie consults with Scott on the design to ensure it will work with the existing structure of the home. Once the design is approved by our clients, Scott then supervises our construction crews on the building part of your project. Our process removes the guess-work from your remodeling project and allows you to see what specifically needs to be accomplished to bring your Dream to Life.
Scott Hochuli has over 21 years of experience in the design-build and renovation industry.
Together they have successfully completed over 500 bathroom remodeling and other design-build projects in Phoenix, Tempe, Scottsdale, Paradise Valley, Chandler, Mesa, and Gilbert.
Here are some of the key reasons our clients updated their outdated bathrooms:
A great bathroom remodeling project truly changes your whole outlook on your home especially if your current bathroom has vintage 1980 colors and fixtures.
They wanted to create a space that was pleasing to the eye and had the amenities that make it a special place.
Their bathroom was a "builder special" that didn't make great use of the space or that had materials that just didn't hold up to normal wear and tear.
We understand that renovating or remodeling your bathroom is an important decision.
We invite you to explore our website so you can learn:
We think you will agree with our clients. You will come away knowing specifically what you are getting for your investment by the amount of detail we provide. We are also confident that this information will help you evaluate and then choose a professional construction, design build or home remodeling contractor to complete your bathroom project. In addition to bathroom remodeling, we also provide other home remodeling services in Phoenix, AZ with a focus on kitchen remodeling, room additions and whole house renovations.
We realize that there is plenty of competition in the market and we welcome this opportunity to demonstrate why our clients consistently refer us to friends, family and business contacts. Thanks for your time and we look forward to making your bathroom a delight every time you walk in the room. Call us today at (602) 451-0323 and get started on your dream bathroom.