Spotlight – Better Space Planning for this Kitchen Remodel in Phoenix
Better Space Planning = Amazing Kitchen Transformation
These Phoenix homeowners had very little storage in their kitchen, and what they had was cramped and cluttered.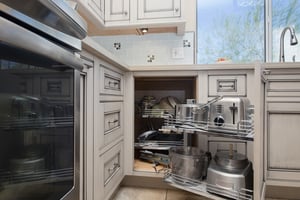 When we came on the scene of this kitchen remodel in Phoenix, we quickly saw that this project was about making better use of the space the homeowners had. As such, the original footprint was kept intact, and we focused our efforts on maximizing cabinetry and countertop space – leaving the flooring and wall color as is.
The original kitchen cabinetry had several "dead corners". These are corners where the cabinetry connects, but because of the antiquated configuration of the shelves, it makes them practically unusable, which we see often. The homeowners end up stuffing back into the corner several items that they then forget about and, as a result, never use.
Because the design goal was to use every square inch of space, we installed "magic corners" to make better use of these areas. Shelving racks slide out to make it easier to see the stored items.
Our homeowners also loved cooking, and before the remodel, the cooking oils and spices they used were scattered throughout the cupboards – making it difficult to find what they were looking for. Pull-out racks were installed on either side of the cooktop to store their flavored oils and seasonings in one convenient spot.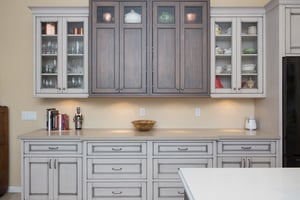 Here are some other highlights from this kitchen project:
Engineered Quartz Countertops (Samsung Radianz) in two different colored slabs to further add texture and interest to the space were added.
Because this wall is long and tall, our design/build home remodeling team suggested that one set of the inset kitchen cabinets be made deeper, taller and painted a custom color – to add definition and interest to what was previously a bland section of the room. This turned out to be one of the homeowners' favorite aspects of the kitchen remodeling project.
The drawer-installed knife block keeps these utensils sharp and safely tucked away. This feature also keeps the countertops clutter-free. For the backsplash, the homeowners wanted something classic that wouldn't go out of style in a few years. 3" x 6" subway tiles were used, along with small mosaic tiles scattered throughout. You can find some before/after pictures of this Kitchen Remodeling Phoenix here.
Are you embarrassed to entertain because your kitchen is outdated our un-functional and in need of some space planning and layout help? Start a conversation with Scott.