Kitchen Remodeling in Tempe
When Phoenix homeowners want to hire a professional to complete the kitchen remodeling project they have been dreaming about- one company comes to mind.
We realize that most Phoenix homeowners tackle a kitchen remodeling project once in their life so we expect that you will be excited to update your 1980's era kitchen and probably a bit anxious at the same time.
Hochuli Design & Remodeling Team is a design-build company – we first design your project and then we build it. The ability to design and build is a special skill that few companies master.
Lorrie Hochuli has over 10 years of design experience and understands the needs and perspectives of our clients…. especially the women.
Lorrie pays attention to the project details that many remodeling contractors don't want to deal with.
She takes the time to listen to your needs and desires, then creates a design that maximizes the use and functionality for your new kitchen.
She uses her understanding of colors and finishes to give the space that "wow" her client's expectations.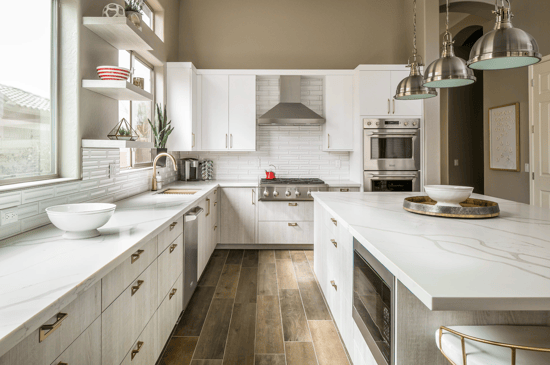 Scott Hochuli has over 21 years of experience in the design-build and renovation industry.
Together they have successfully completed over 500 kitchen remodeling and other design-build projects in Phoenix, Tempe, Scottsdale, Paradise Valley, Chandler, Mesa, and Gilbert. Our process removes the guess-work from your remodeling project and allows you to see what specifically needs to be accomplished to bring your Dream to Life.
Here are some of the key reasons our clients updated their outdated kitchens:
A great kitchen remodeling project is often a smarter decision than moving and having to remodel your kitchen anyway. Our clients are continually amazed at the transformations that we can achieve for them. This truly changes your whole outlook on your home. Naturally, we will advise you if you are "over improving" your home for your neighborhood. This is always your decision but we want you to be informed.
They wanted to create a great place where family and friends want to gather. That 80's era kitchen can be transformed into "the place" where you and your friends and family will get together every day.
The whole look of their kitchen was tired and dark & worn cabinets, ineffective lighting, weird color schemes, lack of storage are just a few of the things most Phoenix homeowners want to change.
We understand that renovating or remodeling your kitchen is an important decision.
We invite you to explore our website so you can learn:
We think you will agree with our clients. You will come away knowing specifically what you are getting for your investment by the amount of detail we provide.
We are also confident that this information will help you evaluate and then choose a professional construction, design build or home remodeling contractor to complete your kitchen project.
In addition to kitchen remodeling, we also provide other home remodeling services in Phoenix, AZ with a focus on bathroom remodeling, room additions, and whole house renovations.
We realize that there is plenty of competition in the market and we welcome this opportunity to demonstrate why our clients consistently refer us to friends, family and business contacts.
Thanks for your time and we look forward to making your kitchen a delight every time you walk in the room. Call us today at (602) 451-0323 and get started on your dream bathroom.